Pro Boat -
Item No.
PRB08035
Riverine Patrol Boat 22" Brushed RTR
Key Features
Highly detailed military trim scheme with incredible scale detail
Submerged Twin Jet Propulsion system
Run day or night with LED light system
LiPo compatibility allows the user to use most any size 7.4 LiPo available
The 2.4 radio system provides a clear and precise connection when the boat is off the mantle and on the water
The included boat stand allows for use as a display model or to store the boat on while not in use
Needed to Complete
30C+ 2S Lipo battery with EC3 connector
Comptible LiPo charger
AA batteries (4)
What's in the box?
(1) 22-inch Riverine Patrol Boat
(1) Spektrum™ STX2™ 2.4 GHz FHSS Radio
(1) SRX200 Receiver
(1) Dynamite® Tazer™ 390 22T Motor
(1) Boat Stand
Overview
Patrol the coast with the Pro Boat® 22-inch Riverine Patrol Boat. Modeled after the US Navy's RCB (River Command Boat), this scale model has everything to make true military enthusiasts smile including molded detailed accessories such as machine guns, round life preservers, lights pods, GPS module, antennas, flag, and working LEDs. Featuring dual brushed 390 motors, 60-amp brushed LiPo compatible waterproof ESC and a durable ABS hull, you can hit the waterways with confidence. Additionally, powerful, steerable jet pumps provide full power while maintaining scale speed and steering. Plus, there are no exposed propellers so the Riverine can be used in a river or stream with as little as three inches of water. The Riverine Patrol Boat commands attention on the water or in the display case.
Video Overview
Extreme Power
Like the US Navy's River Command Boat, the Riverine Patrol Boat is propelled by twin, steerable jet pumps.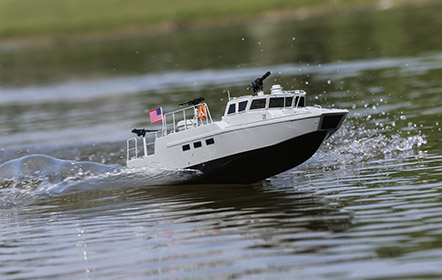 Molded Accessories
You'll love the realistic and detailed molded accessories such as machine guns, round life preservers, light pods, GPS, antennas, and US flag.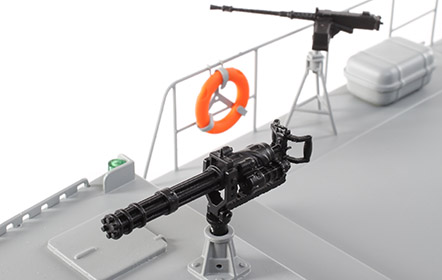 Run Day or Night
Working LEDs help you light up the night and add to the scale realism.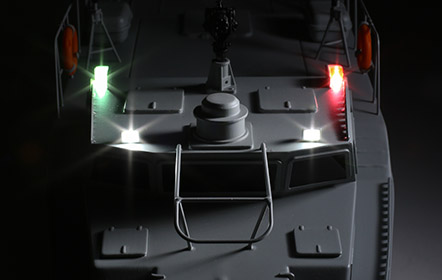 Interference Free Connection
The included 2.4 Spektrum™ STX2™ 2.4GHZ transmitter provides a clear, precise connection while the boat is on the water.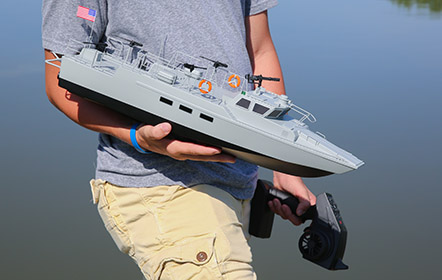 Product Specs
Product Weight
2 lbs (0.9 kg)
Trim Scheme Colors
Grey/ Black
Completion Level
Ready-To-Run
Approximate Assembly Time
Less than 1 Hour
Motor Size
Two 390 size brushed motors
Product Length
22 inches (558.8mm)
Hull Height
6 inches (152.4mm)